Charity Support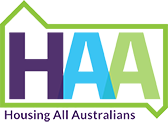 TEFMA is pleased to support its new nominated charity, Housing All Australians as introduced at the Online 2021 TEFMA Directors' Forum on 26 July.  TEFMA will support Housing All Australians ("HAA") through  raising awareness, fundraising at events and by donating to the the charity in lieu of speaker gifts at TEFMA hosted workshops and forums.  

HAA is a private sector group using a commercial lens to help address Australia's chronic shortage of low-income affordable housing.  They was established in 2019 as a 'for purpose' organisation, to facilitate a private sector voice, and re-position the discussion and action on social and affordable housing for those on low to very low incomes. Their commercial lens is like no other charity in this space.  Their mission is to harness the ability of the private sector and collaborate to address this issue.  

You can find out more about HAA by visiting their website: housingallaustralians.org.au.  
Watch a short clip here to give you an overview of HAA.  

Robert Pradolin, Founder, Housing All Australians, presented at the recent TEFMA Directors' Forum.  If you missed his presentation, you are able to view a PDF of his presentation slides here.