Continuous Improvement Award
Congratulations to:
2019 Continuous Improvement Award:
University of Technology Sydney
in recognition of their consistent and demonstrated improvements in the energy and carbon sector over a
5 year reporting period (2013 - 2018)
Honourable Mention also goes to Queensland University of Technology and University of Southern Queensland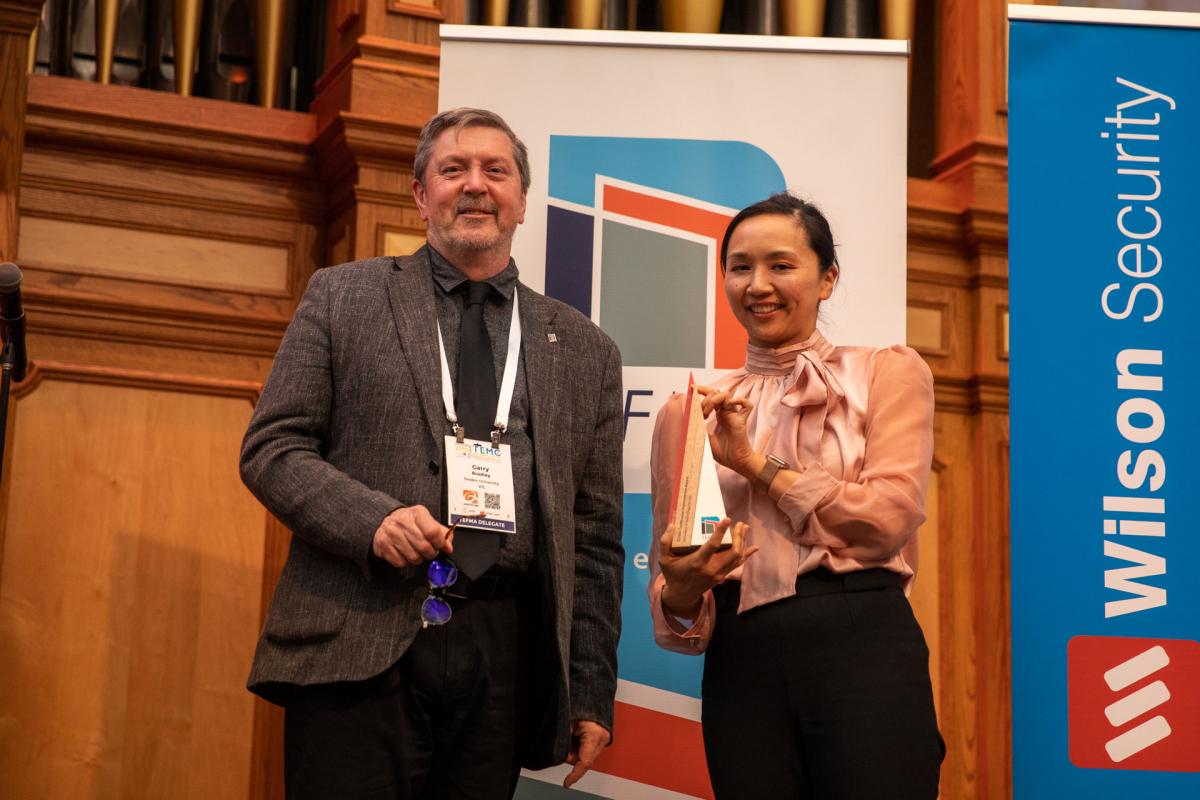 Natalie Lau, UTS, with TEFMA President, Garry Bradley
---
Beginning in 2017, the Continuous Improvement Award recognises a member institution that has achieved significant and demonstrated improvements in facilities management practice outcomes over a four year period, resulting in an identifiable, positive change in the trend of one or more of its benchmarks in the annual TEFMA Benchmark Survey.  
Annual benchmark survey results will be evaluated on the basis of the criteria set out below to determine the winning institution.     
As well as sector recognition, the award winner will receive a uniquely designed, hand crafted trophy.  The Award will be presented at the TEFMA Awards Dinner.
Assessment of applications and presentation of awards
Selection of the successful institution will be approved by the TEFMA Board following receipt of a recommendation from a judging panel established to identify and short-list institutions that have demonstrated continuous improvement.
Potential winners of the award will be identified by the judging panel after review of the annual TFMA Benchmark Survey data and further investigation. 
The judging panel will include:
·         TEFMA Board Chair of the Information Services Committee
·         TEFMA Board Chair of the Membership Services Committee
·         TEFMA Benchmark Survey Administrator
·         A representative from the award sponsor
Other appropriately qualified professionals may be co-opted to the judging panel.  The ASR group may also be approached for assistance if required.
Institutions will be judged against the published criteria. 
Panel deliberations will be confidential, and the judging panel's decisions are final.  No correspondence or appeal process will be entered into.
The judging panel may decide not to award if it is deemed that no institutional performance in the relevant facilities management area meets the award criteria. 
Shortlisted institutions may be asked to host a site visit by an evaluation panel (or representative) responsible for assessing potential award winners and/or provide demonstrated evidence of improved performance.
Selection of winners for the award will be completed by mid-late August, to enable institutions to be notified so that they can plan travel to attend at the announcement and presentation of the award.   Awards will be presented at the TEFMA Awards Dinner at the TEM conference in the year of the applications.
Eligibility
All member institutions submitting benchmark survey data for the four previous reporting periods are eligible for this award. 
No application is required to be made. 
Continuous Improvement Award criteria
A.    General
One or more benchmarks selected from the annual TEFMA Benchmark Survey will be reviewed in any given year.  Examples of benchmarks that may be reviewed include (but are not limited to):
·         WASTE PRODUCED:                          kg/(EFTSL+FTE)
·         CARBON EMISSIONS:                       kgCO2-e/EFTSL+FTE
·         SPACE PROFILE:                                UFA/GFA
·         SPACE UTILISATION:                        %age
·         WATER CONSUMPTION:                   KL/m2GFA
·         ENERGY CONSUMPTION:                GJ/m2GFA
Each year the TEFMA Board will choose which benchmark(s) are to be reviewed; there is no pre-defined order in which the benchmarks will be cycled from year to year. 
Results from the TEFMA Annual Benchmark Survey of all eligible institutions will be assessed over a four year period, to identify trends showing a notable percentage improvement in performance.
Several eligible member institutions will be shortlisted on the basis of improved trends identified in their benchmark results.
The judging panel will approach shortlisted institutions, to ascertain the background behind the changing trends identified, and whether or not this has resulted from improvement in facilities management practice, or some other factor.  A site visit may be requested. 
B.     Facilities Management Practice Improvement
Possible changes in facilities management practice that may have given rise to improved benchmark trends may include (but are not limited to):
Planning improvement:  Quality planning, goal setting and / or measurement and reporting, that have resulted in significant improvements in relevant benchmark survey outcomes.   
Process improvement:  Survey benchmark results have measurably improved as a result of new or improved processes, whether technical, administrative or other. 
Research:  Information gathering and well planned analysis have resulted in increased knowledge, with direct improvements in survey outcomes as a result of its application.
Innovation:  Application of a creative approach to problem solving has led to greatly improved results.
Delivery:   Excellence in management of service or project delivery has resulted in great improvements. 
Partnership:  Opportunities for partnership and different business models have been explored, resulting in measurable business improvements. 
These and other potential factors relating to the performance trend improvement will be considered by the panel during their deliberations.