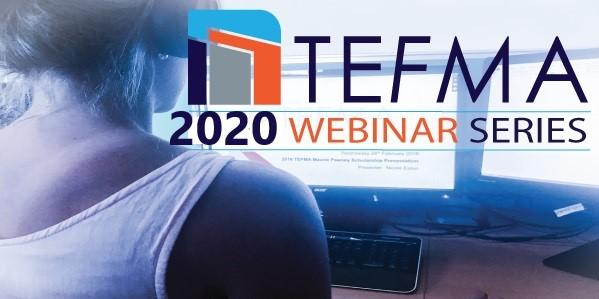 TEFMA Webinar: 2018 TEFMA Maurie Pawsey Scholarship Presentation
1:00pm Monday, 17 February 2020
1:40pm Monday, 17 February 2020
TEFMA Webinar: 2018 TEFMA Maurie Pawsey Scholarship Presentation
Presenter:
Corey Peterson, Sustainability Manager, University of Tasmania 

Who should attend:
Staff working in facilities and campus services, transport and parking management, energy and waste management, asset management, procurement, catering, landscape management and environmental sustainability will benefit from attending this webinar. 
What will you get from the presentation:
In this webinar, attendees will have the opportunity to hear about several successful institutional approaches from the United Kingdom and Ireland to deliver sustainability outcomes across a wide-range of facilities and operations areas that often deliver for other institutional endeavours as well. Specific initiatives through to whole of building examples will be discussed. 
Contact Information
Please contact us if you have any questions about the 2020 Webinar Series.
Additional Information
WEBINAR DETAILS:

Date: Monday, 17 February 2020

Time*:
10.00am - 11.40am, AWST (WA/HK)
11.30am - 12.10pm, ACST (NT)
12.00pm - 12.40pm, AEST (QLD)
12.30am - 1.10pm, ACDT (SA)
1.00pm - 1.40pm, AEDT (VIC/NSW/ACT/TAS)
3:00pm - 3:40pm, NZDT (NZ)
* includes Q and A


Cost: 
Complimentary to all TEFMA members
Only members who register will have access to the webinar on the day so please register if you wish to attend.

Once you have registered you will receive information on how to join the webinar and a calendar entry to record this event.