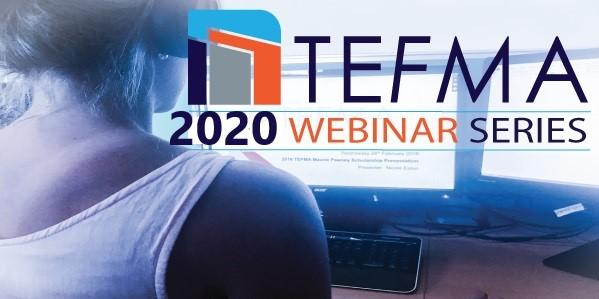 TEFMA Webinar: Lockdown in a University and its after effects
2:00am Monday, 6 April 2020
2:40am Monday, 6 April 2020
TEFMA Webinar: Lockdown in a University and its after effects
Presenters:
Alex Hanlon
Details for this webinar to be provided.  
Contact Information
Please contact us if you have any questions about the 2020 Webinar Series.
Additional Information
WEBINAR DETAILS:

Date: April 2020

Time*: 
TO BE CONFIRMED
9.00am - 9.40am, AWST (WA/HK)
10.30am - 11.10pm, ACST (NT)
11.00pm - 11.40pm, AEST (QLD)
11.30am - 12.10pm, ACDT (SA)
12.00pm - 12.40pm, AEDT (VIC/NSW/ACT/TAS)
2:00pm - 2:40pm, NZDT (NZ)
* includes Q and A


Cost: 
Complimentary to all TEFMA members
Only members who register will have access to the webinar on the day so please register if you wish to attend.

Once you have registered you will receive information on how to join the webinar and a calendar entry to record this event.