TEFMA AECOM Innovation Award 
---
Submissions for the TEFMA Clever Campus Awards Program will open again in early 2021.
---
The TEFMA Innovation Award has been bestowed in conjunction with AECOM for several years, in recognition of innovation in outstanding professional practice by a member institution or individual, in any aspect of higher education property and facilities management. 
The Innovation Award recognises and rewards an individual member or institution that has developed and fully implemented a practice, process, or physical development, which is innovative and has improved the delivery, efficiency and/or effectiveness of facilities, their management and services.
It is expected that Innovation Award applications will showcase best practice and will demonstrate the valuable role played by this work in relation to an institution's objectives, for the benefits of its customers.
Award applications will be evaluated on the basis of the criteria set out below.     
As well as sector recognition, the award winner will receive a uniquely designed, hand crafted trophy.  The Award will be presented at the TEFMA Awards Dinner.
TEFMA would like to thank AECOM for sponsoring the Innovation Award again in 2020

AECOM is delighted to continue our long standing support of the TEFMA Innovation award.
We recognise that innovation is inextricably linked with learning and research, and vital to how the institutions successfully navigate the changing landscapes around them. 
We look forward to seeing 2020's showcase of best practice and ideas, and to celebrate them with you.
Aim
The aim of this Award is to reward and recognise a member or institution who/which has developed and fully implemented a
Practice, or
Process, or
Physical development
which is innovative and has improved the delivery and/or efficiency and effectiveness of facilities, their management and services.
It is intended that the practice/process/development will be "Best practice, and best in class".
Eligibility
The Innovation Award is open for applications from any TEFMA Institutional Member organisation or individual.  Institutions and individuals with outstanding innovation achievements in relevant areas during recent years are encouraged to apply. 
Institutions with multiple campuses may submit applications pertaining to the whole institution or for an individual campus. 
There is no limit on the number of applications from one institution.   
Innovation Award Criteria
Applications should clearly reference the criteria provided.  Words provided are a prompt only, to assist those completing an application, but are not intended to be exhaustive.  You can view the Info Pack here>>
A.    General
Applications for this award may highlight innovation excellence by an individual, a team or an institution.  
A thoughtful and creative approach to dealing with a practice, process or a physical development should be demonstrated, resulting in a contribution of significant value.  Submissions should show how the innovation has enhanced a facility or a service delivered on the estate of a member institution and should demonstrate its uniqueness. 
The innovation must be fully developed and implemented and should improve efficiency and effectiveness of a relevant aspect of property and / or facilities management within the member organisation.
Replicability to achieve similar successful outcomes in other situations, including being able to be implemented in other higher education environments, should be described. 
The innovation should be considered best practice, exhibiting professionalism and demonstrating significant outcomes for the benefit of staff, students and visitors, and bringing value to the organisation.
Applications for the Innovation Award will be judged with 60% weighting for innovation and 40% weighting for replicability.
B.     Innovation
Applications should demonstrate an innovative approach to resolution of a compelling issue in a relevant facilities management area.  This may relate to a specific physical development project or to development or improvement of a practice or a process. 
The application may, for example, describe an innovative change leading to a more sustainable, robust process, resulting in work effectiveness being measurably and reliably improved on a continuing basis. 
An alternative example may relate to a specific project that demonstrates an innovative solution to a physical development that can be applied in other circumstances.  
Applications may address such considerations as: 
New knowledge:  Information gathering and analysis may have led to new knowledge or approaches being identified and applied to achieve measurably improved outcomes. 
Creativity: A fresh break-through with a 'wow' factor may have been made.  It may have sparked further innovation on top of the original idea, or perhaps led to the creation of a new industry.  Something that did not exist before may have been invented, a new process or way of doing a particular thing may have been developed or an unrelated process may have been adapted to solve a problem.
Uniqueness:  The innovation may be unique; unusual and incomparable to anything else, with research showing that there is no other innovation like it.
Value adding:  The innovation may have changed the way that something is done and in doing so, solved a problem, made an improvement or created an efficiency.  Examples include improvements to quality of life, efficiency of use of resources, or the way business is conducted. 
C.    Replicability
Applications should demonstrate the value of the innovation in the way it is able to be replicated.  It may be able to be duplicated within the organisation, or adapted for use in other organisations, providing continuing benefits as a result. 
Replicability may be demonstrated through the development or improvement of repeatedly used processes leading to measurably improved business effectiveness.  This may relate to operations management, business, administrative, quality control, project delivery or other such applications associated with property and facilities management.
Alternatively, the innovation described may apply to more than one development project, where it can be applied repeatedly.   
Sustainability improvements in relevant contexts may also be examples meeting Innovation Award criteria. 
Applications may address such considerations as: 
Replicability:  The extent to which your innovation is able and ready to be implemented in other institutions, creating value to the higher education sector.  The basic conditions that another institution would need for the innovation to work elsewhere may be identified.   
Performance monitoring:  Simple and concise KPIs; baseline data periods and review milestones may be recommended; performance may be able to be forecast from data.
Budget:  Implications described with basic business case argument described to secure senior management support and align project with institutional goals.
Stakeholder consultation:  Collaboration strategies and methods described.  
Post implementation feedback:  Methods articulated. 
Criteria For Judging:
The criteria for judging is:
Innovation - 60%
Replicability - 40%
Application Process
An institution may enter more than one proposal, submitting a separate application for each entry. Unsuccessful entries from previous years may be updated and resubmitted in subsequent years. Applicants should ensure that all relevant and descriptive/visual information is presented to the best of their ability, as the judging panel will rely solely on the submitted documentation in their review. No onsite visits will occur except in tie-breaking circumstances.
Instructions
1.     To be considered for this award you must provide the following:
Completed application form - DOWNLOAD HERE
Supporting materials (if any).
Details of any additional material to be made available should the judging panel choose to make a site visit.
2.    All sections of the application form must be completed for an application to be considered. 
3.    Applications must be endorsed and signed by the relevant Institutional Member. 
4.    Information on how to apply will be available in March each year.
5.    Institutions with applications that are shortlisted will be asked to submit a 2 minute video presenting a snapshot of the nominated institution, the team and the work proposed for the award.
6.     All enquiries should be directed to the TEFMA Secretariat on +61 3 6234 7844 or info@tefma.com.
Congratulations to:

2019 Innovation Award

 University of Newcastle

'100% Renewable is 100% Do-able'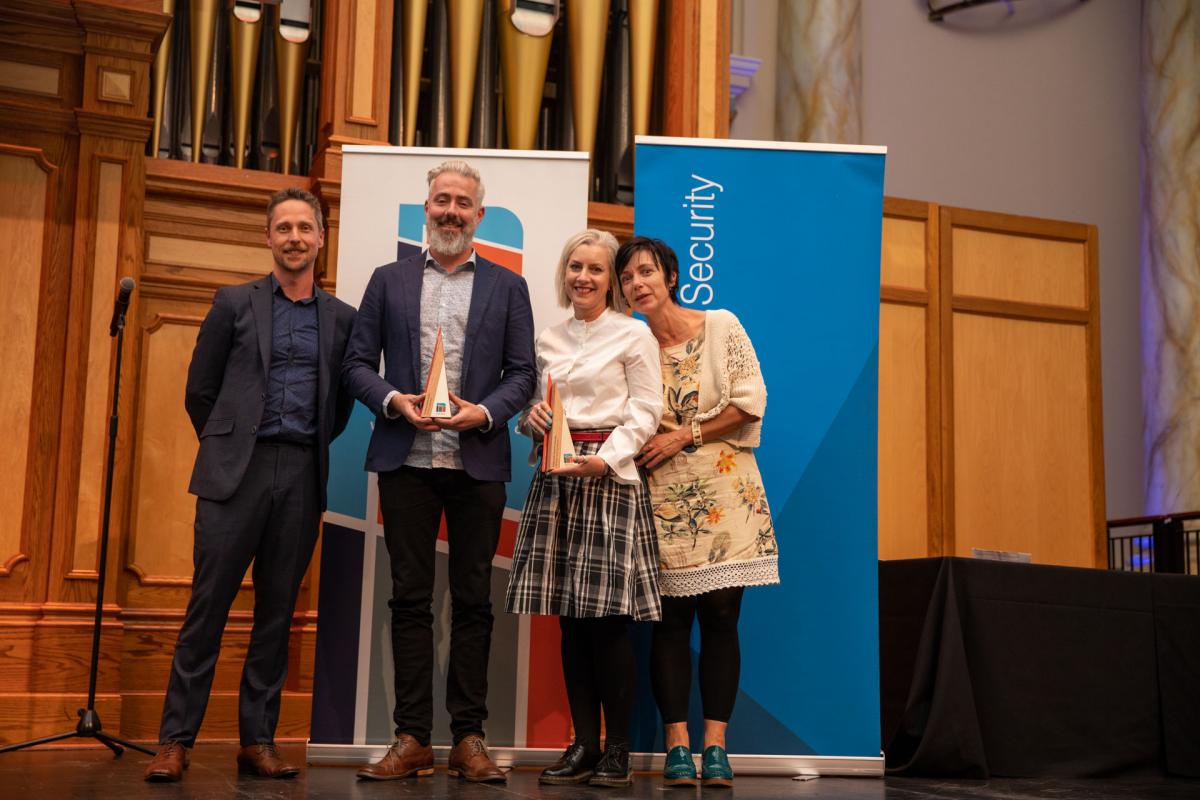 Pictured: University of Newcastle team, Daan Schiebaan, Lilly Roger and Meridith Butler with Nick Bamford, AECOM
Thank you to our Innovation Award Sponsor, AECOM
PREVIOUS WINNERS
2014/2015
Winner - Curtin University

2012/2013
Winner: Macquarie University
Highly Commended: RMIT University

2010/2011 James Cook University

2009/2010 Monash University (Model ESD Sustainability Assessment Tool)

2007/2008 University of Melbourne