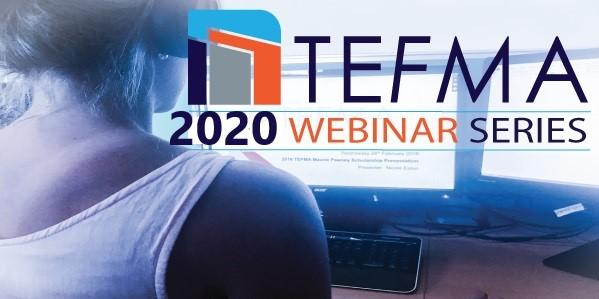 TEFMA Webinar: Capital Planning for a Post COVID-19 World
11:00am Thursday, 30 April 2020
11:40am Thursday, 30 April 2020
TEFMA Webinar: Capital Planning for a Post COVID-19 World
Presenters:
Glenn Adams, Director of Product Management, AssetWorks
Steven Denning-Garrison, Vice President of International Operations, AssetWorks
Who should attend?
University CFOs, CIOS and CDOs'/ CTOs along with Directors of Finance, Facilities, Planning, Capital Works, Campus Operations, and Sustainability will benefit from attending this webinar.
What will you get from the presentation?
The demands of working in a college or university finance or facilities office can be challenging in the best of times. Operating with the unknowns of the Post COVID-19 world, finance leaders are now triaging finances while accounting for the costs of COVID-19, forecasting enrollments with unprecedented variance, and helping their institutions make data-driven decisions in an often irrational environment. To work in concert with them to enable those data-driven decisions, facilities leaders must collect and deliver data that is accurate, complete, timely, and actionable. At the same time, facilities leaders are undertaking more complex maintenance efforts throughout their entire real estate portfolio to ensure the safety of students, staff, and visitors now and in a Post COVID -19 world.

In this webinar, attendees will have the opportunity to discover and learn about how to enable strategic planning teams to move toward true data-driven decision making using effective asset inventory and capital budgeting strategies, including:
Portfolio analysis in a rapidly changing environment

Classifying asset renewal based upon investment criteria to future proof the campus

Accurately updating facilities assessment and asset data in real-time
Special thanks to our Business Partner, AssetWorks.  Find out more via their website

Contact Information
Please contact us if you have any questions about the 2020 Webinar Series.
Additional Information
WEBINAR DETAILS:

Date: Thursday, 30 April 2020

Time*: 
9.00am - 9.40am, AWST (WA/HK)
10.30am - 11.10pm, ACST (SA/NT)
11.00pm - 11.40pm, AEST 
(ACT/NSW/QLD/TAS/VIC)
1:00pm - 1:40pm, NZST (NZ)
* includes Q and A


Cost: 
Complimentary to all TEFMA members
Only members who register will have access to the webinar on the day so please register if you wish to attend.

Once you have registered you will receive information on how to join the webinar and a calendar entry to record this event.