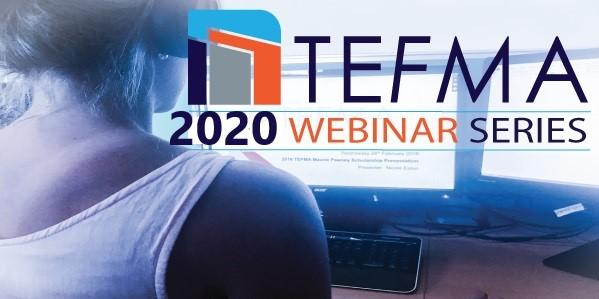 TEFMA Webinar: Removing building issues before they become insurance events
11:00am Thursday, 17 September 2020
11:40am Thursday, 17 September 2020
TEFMA Webinar:
Removing building issues before they become insurance events
Presenters: 
Brett Chilton, Founder & CCO, Skand 
Andrew Sun, Senior Manager - Asset Management, RMIT University 
What will you get from this presentation? 
In this webinar, attendees will have the opportunity to discover and learn about how AI and 3D modelling is assisting building & asset managers with:
Managing insurance risks with buildings;
Driving down building inspection & rectification costs;
Helping operations teams to collaborate together during isolation.
Practical examples and case studies will be discussed, demonstrating how other tertiary institutions are embracing the technology and using it in their maintenance workflows.

Who should attend? 
Staff working in facilities and campus services, maintenance, operations, asset management and insurance will benefit from attending this webinar

About our presenters 
Brett Chilton is the co-founder of Skand which launched in 2018. Prior to Skand, Brett played a key role in developing data acquisition techniques for buildings and their interiors for the purposes of photogrammetry. He is passionate about the digitisation of structures and how this can help solve modern day problems. Brett enjoys running and 3d design as his personal hobbies. 
Andrew Sun leads the asset management team as their Senior Manager within Property Services, RMIT University. He is responsible for all things within the asset management space.
In achieving this, leading subject matter experts and leverage condition assessment methodologies, life cycle analysis, data modelling, regular asset information reviews and leading edge technologies. He has led the team to win a number of industry awards in 2017-19.
He holds a Bachelor degree in Electrical Engineering, a Master Degree in Maintenance & Reliability Engineering, Master Degree in Supply Chain Management and a MBA. Outside of work his hobbies include canvas painting, visiting wineries and long distance running.
Contact Information
Please contact us if you have any questions about the 2020 Webinar Series.
Additional Information
WEBINAR DETAILS:

Date: Thursday, 17 September 2020
Time*: 
9.00am - 9.40am, AWST (WA/HK)
10.30am - 11.10am, ACST (SA/NT)
11.00am - 11.40am, AEST (ACT/NSW/QLD/TAS/VIC)
1:00pm - 1:40pm, NZST (NZ)
* includes Q and A


Cost: 
Complimentary to all TEFMA members
Only members who register will have access to the webinar on the day so please register if you wish to attend.

Once you have registered you will receive information on how to join the webinar and a calendar entry to record this event.