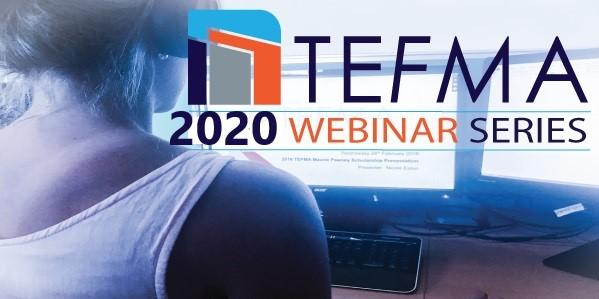 AUDE International Strategic Partners webinar responding to COVID-19
9:00pm Wednesday, 9 September 2020
10:30pm Wednesday, 9 September 2020
This webinar will be hosted by AUDE and our members will be given the opportunity to join us online as they discuss how institutions are dealing and responding to COVID-19. TEFMA will be joining the forum along with representation from APPA (Leadership in Educational Facilities, America) and HEFMA (Higher Education Facilities Management Association for Southern Africa).  
Although each institution will be doing various things and are a different stages at their campuses during this unprecedented time and our experiences will surely differ, but what we are going through due to COVID-19 is devastating to our membership, campuses, and infrastructure. Therefore the aim of this meeting is to hear from representatives from UK, America, Australia and Southern Africa to share information on what colleagues are experiencing so that others can learn from these experiences and ease the type of concerns we have about our own environments.
Agenda: 
Welcome and explanation of the reason for the meeting
Allow each strategic partner representative 15 minutes to provide an overview of their response to COVID-19; sharing implementation plans, short/long term implications and effects on their institutions occurred from the pandemic, provide case studies and discuss their current and future challenges
Questions and discussion
Other issues, moving forward and closure
Speakers 
Prof. Prakash Naidoo, Vice Rector Operations, University of Free State representating HEFMA
Glenn Mowbray, Deputy Director – Operations & Maintenance, University of Canberra representating TEFMA 
Registration details will be made available shortly.  
Contact Information
Please contact us if you have any questions about the 2020 Webinar Series.
Additional Information
WEBINAR DETAILS:

Date: Wednesday, 9 September 
Time*: 
7.00pm - 8.30pm, AWST (WA/HK)
7.30pm - 9.00pm, ACST (SA/NT)
9.00pm - 10.30pm, AEST (ACT/NSW/QLD/TAS/VIC)
11.00pm - 12:40am, NZST (NZ)
* includes Q and A


Cost: 
Complimentary to all TEFMA members
Only members who register will have access to the webinar on the day so please register if you wish to attend.

Further details for how to register will be updated shortly.  Please note, this webinar is being ran by AUDE and will be offered to TEFMA Members in line with our Strategic Partnership.  We hope you can join us.