Emerging Professional Award
Submissions for the 2020 TEFMA Emerging Proessional Award  will open again in early 2021.
---
2017 was the inaugural year of the TEFMA Emerging Professional Award in recognition of outstanding professional practice by a young member.  
The Emerging Professional Award acknowledges promising future leaders in the sector, recognising a member of age 30 years or less that has had a positive influence in the management of property and/or facilities of a member institution.  Applications for this award may highlight excellence from a young person starting their career in the higher education workplace, or someone who has had some career experience in another sector, but has recently moved into higher education property and facilities management.
As well as sector recognition, the award winner will receive a uniquely designed, hand crafted trophy.  The Award will be presented at the TEFMA Awards Dinner.
To view application forms and information packs, please refer to Related Resources below.
Assessment of applications and presentation of awards
Selection of the successful applicant will be approved by the TEFMA Board following receipt of a recommendation from a judging panel established to review the applications.
A panel of appropriately qualified judges, including representatives from TEFMA and the professional sector, will be nominated to judge applications. 
Applications will be judged against the published criteria.  Panel deliberations will be confidential, and the judges' decisions are final.  No correspondence or appeal process will be entered into.
The judging panel may decide not to award if it deems that no suitable applications have been received.
Evaluation of applications for the award will be completed by mid-August, to enable shortlisted applicants to be notified so that they can plan travel to attend at the announcement and presentation for the winning application.  Awards are presented at the TEFMA Awards Dinner at the TEM conference of the year of the applications.
The award winner and / or their nominator will be asked to make a brief presentation, including a 2 minute video, on receiving the award at the TEFMA Awards Dinner.  Runners up will have the opportunity to have their 2 minute electronic presentations on display at the Awards Dinner venue.
Eligibility
The TEFMA Emerging Professional Award is open for applications from any individual, or on behalf of any individual, aged 30 years or less, working in a relevant department of a TEFMA member institution.  
Individuals with outstanding achievements in relevant areas during the past year are encouraged to apply; alternatively, they may be nominated for the award by a colleague or manager. 
There is no limit on the number of applications from one institution.  
Emerging Professional Award criteria
Applications should clearly reference the criteria provided.  Words provided are a prompt only, to assist those completing an application, but are not intended to be exhaustive.  View the Info Pack here>>
A.    General
An individual's growing professionalism should be evidenced, with their approach to carrying out their role making a positive impact on property and/or facilities management in a member institution. 
Applications should exhibit quality work, resulting in a contribution of significant value to the organisation and benefits to staff, students and visitors as a result.
B.    Interpersonal skills
Applications should reference some or all of the following:
Leadership:  Promising future leadership abilities, including attributes such as integrity, initiative and a focus on quality performance outcomes.    
Customer relationships:  Emerging skills in client relationship management for service provision, such as customer needs awareness, follow up, a can-do attitude, service levels and requirements exceeded.
Organisational relationships:  Quality work within a team, such as commitment, inclusiveness and good communication skills.
C.    Professional practice
Applications should reference some or all of the following:
Professionalism:   Extensive understanding of the matter at hand and a willingness to 'go the extra mile' have ensured a successful result.
Planning:   A good understanding of organisational objectives, goal setting, measurement and reporting on outcomes have led to successful results.
Process improvement:  Improvement of a process has resulted in the effectiveness of work being measurably improved.   Technical, administrative or other process types may be addressed.
Research:  Objective information gathering and well-planned analysis have resulted in new information being identified, with direct application to its purpose.    
Innovation:  A creative approach to solving a problem has led to resolution of an issue.
Delivery:   Quality work in service or project delivery has made a strong contribution to achievement of the required results. 
Application Process
Instructions
1.     To be considered for this award you must provide the following:
Completed application form - DOWNLOAD HERE
Supporting materials (if any).
Details of any additional material to be made available should the judging panel choose to make a site visit.
2.     All sections of the application form must be completed for an application to be considered. 
3.     Applications must be endorsed and signed by the relevant Institutional Member. 
4.     Information on how to apply will be available in March each year.
5.    Institutions with applications that are shortlisted will be asked to submit a 2 minute video presenting a snapshot of the nominated institution, the team and the work proposed for the award.
6.     All enquiries should be directed to the TEFMA Secretariat on +61 3 6234 7844 or info@tefma.com.
Congratulations to:

2019 Emerging Professional of the Year:

Emma Samuel, Queensland Univeristy of Technology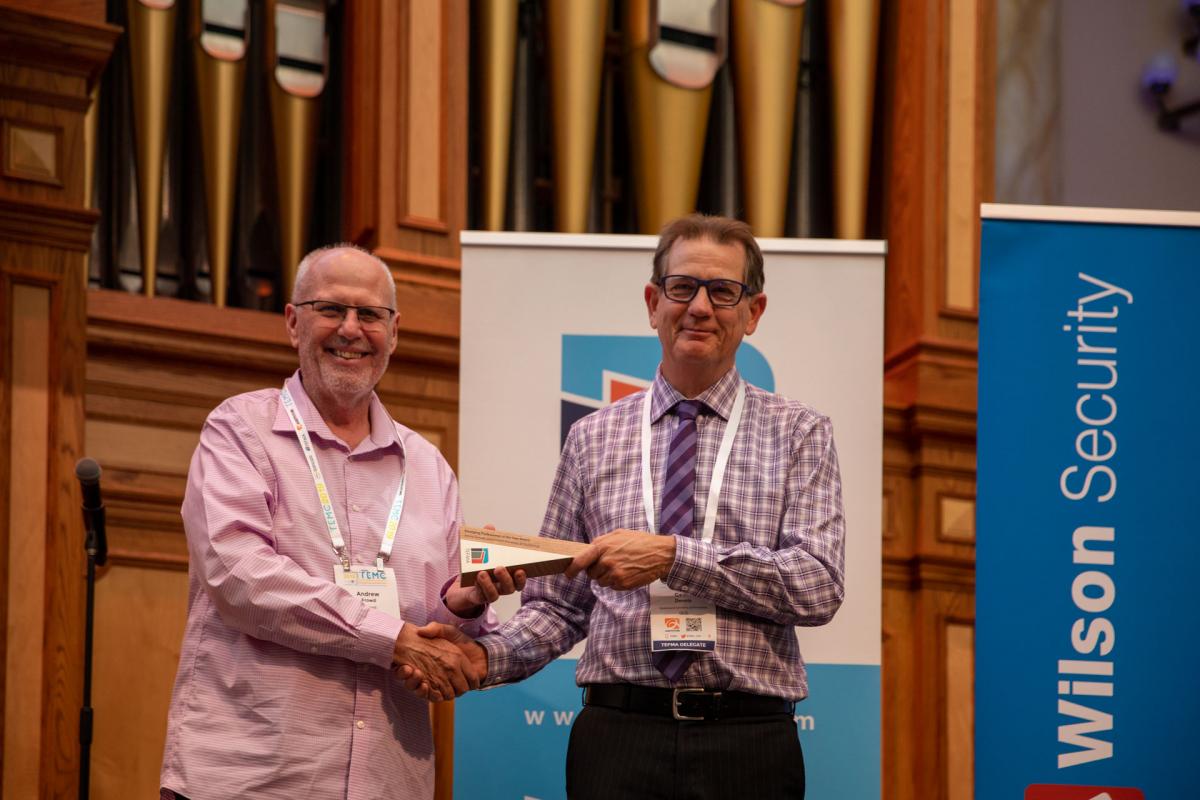 Geoff Dennis accepting award on behalf of Emma Samuel